Folks, I have written hundreds of songs, lyrics and poems, many of which are laying around scribbled on this and that, typed and filed, typed and gathering dust. I decided to unload a bunch of paper so a compilation (anthology) seems to me to be the best way. I intend to compile every worthy piece into a volume sooner or later, and this is the first. The title poem, "The Mountain Laurel", is posted HERE. The book, "The Mountain Laurel Anthology" is available for purchase by clicking the highlighted title.                                                                                                           I wrote the title poem as a kid, back in Jr. High, Sallisaw, OK around 1971. It's a fictional romance poem and the setting is built around a train wreck in the Virginia Appalachian Moun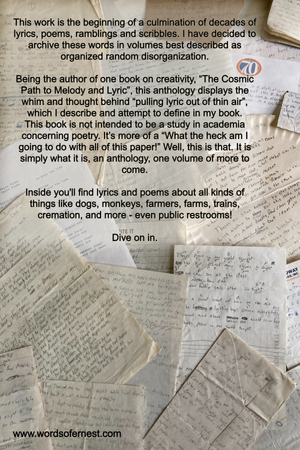 tains where my later father, Sam Hill Sr, grew up. He told me about the wreck, and how the spilled coal turned the Russelfork River black. There are 56 works in this 110 page book which means there are over 50 photos and doodles and drawings including three drawings by my friend and renowned muse artist, Jon Griffin. Each order comes with a free download of the PDF version, or you can order the PDF only. Click here to order. The official release date is set for October 15th, 2021. You can also order this book, along with The Cosmic Path to Melody and Lyric, for $25 plus shipping. Get both and save $5! For a limited time.   The PDF is available now.  What's in this collection? I have written about life, angels, farmers, farms, trains, dogs, people, soldiers, wars, and peace, even Boomers and underwear. Some of these are funny, some are not. Please help me preserve these writings and put a copy in your bookshelf, or someone else's, or on your coffee table, or someone else's.
Thanks for your continued support.