Joe Kidd and Sheila Burke- Voices For The Ages
I recently had a conversation, via phone, with a friend who is also a fest media person and publicist, Karen Wells Verlander, from Wisconsin. Over a year ago we were discussing our unique festival programs. We were in the planning stages of our respective festivals, Blue Ox for Karen, and The John Hartford Memorial Festival for us. Then, Covid. You know the rest of the story. JHMF was cancelled along with so many other festivals. Karen brightened up my hope as she told me, "We are ready to emerge from the Covid Cave". Folks are getting out. The pandemic is still alive and mutating, but people are emerging, hopefully, carefully, and aware. 
JHMF- We had another exciting line-up planned but things had to be put on hold. Coming up in just a few weeks, The Bill Monroe Bluegrass Park is hosting what will be called the John Hartford Campout. This gathering will honor our late founder, John Hotze and pay respect to our namesake, John Hartford. Bands will play on one stage and masked, distanced folks, JHMF fans and family will gather. My wife, Patti, and I will not make this trip this year. Hopefully 2022 will be right for us. I was all set to do Story Songs with my new friends, Joe Kidd and Sheila Burke. Joe and Sheila were finalists in the JHMF Songwriter's Challenge. I was excited to finally get to meet them in person and present them in Story Songs. Maybe someday. In the meantime, for Words of Ernest and The Morning Bugle Blog and fest folk family, I asked Joe and Sheila to do this interview to let folks know just who these world traveling, award winning songsmith/poets are in a format very similar to the onstage discussions that Story Songs is all about.
Joe and Sheila share a common heritage of Irish and North American traditions that comes from the Appalachian region of Kentucky and West Virginia. They are now based in Ann Arbor/Detroit Michigan. The melodies that come from the hearts of these two remind me of the movement music of the 60s in flavor and mood, but easily transcends any period of musical recorded history. Their lyrics are timeless and deep. Not a word wasted or thrown in for "fill". I listen to a lot of music, a lot of songwriters and genres. When I listen to Joe and Sheila, I truly get a tingle. My emotions are awakened and my vision gets set because Joe Kidd and Sheila Burke aren't driven for commercial success, nope, not at all. Joe and Sheila are driven by compassion and mission. They aim to stimulate thought and action. They didn't tell me this. I felt it immediately. In a world full of performing artists who think the world needs their music, you won't find Joe and Sheila grinding and shoving and pushing for that spotlight. You will find Joe Kidd and Sheila Burke where they are needed, and that, to me, is in my heart, adding courage and hope.
Joe & Sheila received back to back Detroit Music Awards for World Music Songwriters Of The Year in 2013 & 2014.
While onstage at Detroit's annual World Music Festival 2015 Concert Of Colors they were presented with a Michigan Governor's Award for Artistic Excellence and their efforts for Social Justice, Peace, & Cultural Diversity by their State Representative.
On June 1, 2017 Joe Kidd was inducted into the Michigan Rock & Roll Hall Of Fame.
December 2018 brought them World Songwriters Award - Best Duo.
On April 10, 2019 Joe & Sheila received a Congressional Certificate of Recognition from the U S House of Representatives while onstage at Dearborn Center of the Performing Arts. 
Fall of 2019 brought Best Acoustic Song from Clouzine International Music Magazine.
The recognition continues.  On August 15 2020 Joe Kidd & Sheila Burke received an International Singer-Songwriter Association award for Vocal Duo Of The Year. 
Their debut CD, "Everyone Has A Purpose" is a fresh break in a world of recorded music that caters to what the industry believes we should hear along with the many non-mainstream performers who are competing in a packed arena to make a living with music. You won't find Joe and Sheila in that arena. They are not competing. They live the life they write about and they are eager to share their vision of a better world and how to get there with the world, and they are doing just that. Their songs tell the truth, opens the eyes and heart and offers hope. Joe's book of poetry, "The Invisible Waterhole", is loaded with deep, heart touching and eye opening word craft. Joe does not soften his words or his view. He speaks truth.
I truly hope this pandemic subsides and that the leaders of the world wake up to the reality that power will die with them, and that the population will learn from this, and strive to take care of one another. In the meantime, I am thankful for having had the opportunity to converse with Joe and Sheila, and we have kept up correspondence, shared our hopes for the future of the planet too. The following is the email interview with Joe and Sheila. I hope you delve into these two and what they have to offer.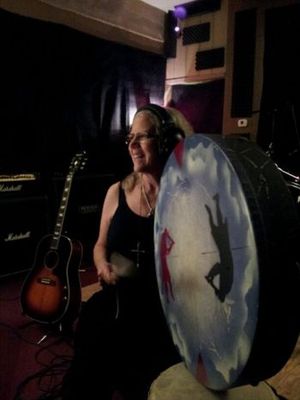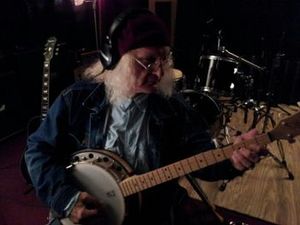 Joe Kidd
Do you recall the point in your life when you felt like "hey, I am a songwriter!"?  Please tell me your songwriting early history.
I don't recall an epiphany in the sense that suddenly I saw myself in a certain light.  I wrote songs as soon as I could do it.  I wrote songs with my brother John when we were children.  It was fun and we got a lot of attention for it.  As I grew up, I created a number of bands.  We wrote songs and mostly just laughed it off.  The first real song that I wrote came to me on the piano.  A song titled Teach Me, sort of a Badfinger style approach.  We played it in the bars and clubs.  Sheila and I still sing it in concert occasionally. 
What was your childhood like? Do you come from a musical family?
My mom was born in Barbourville, Kentucky. Dad was from Shinnston, WV.  They met in Detroit after WWII.  I was born in Detroit in the middle class.  Lived in the city for 12 years.  Went to school with disabled children where I learned of suffering and practiced compassion for others at a very young age.  I made heroic attempts at protecting them against bullies.  I fought a lot.  I am not physically big, so I had to be smart and brave.  It worked out okay.  Went to high school in Buena Park, California.  It was like being sent to another planet.  Nothing like Detroit.  After high school, the family moved back to Michigan.  By then, I was listening to Sun Ra, joined the White Panthers, left home to hitchhike and begin my journey as Siddhartha did.  The family was very artistic.  Everyone sang, we had actors in California, my brother & I played a number of instruments by the time we were teenagers.  Today, my daughter has a degree in music, is a piano instructor at Dearborn Academy, she performs her own music in concert often.
Are you formally trained in music?
The first instrument I learned was clarinet in grade school.  I also learned to play the trumpet there.  When I was able to carry it, I wanted to play the tenor sax, which I did.  I learned to read music in those days.  In the 90s, I enrolled in violin lessons for approximately one year.  A great decision.  My uncle Tommy was in a traveling band when we were children.  He would stay at our house while he was in town.  He taught me and my brother our first guitar chords on a Kay flattop that he kept in our front closet. 
With your great voice and gift for writing, why folk music?
You know what?  I never thought of it as folk music until Sheila introduced me as a folk singer.  These songs can be played in any style.  I think they are called folk songs because of the instrumentation.  Everybody Has A Purpose could easily be a metal song.  Waiting For That Flower To Bloom is a reggae song at heart.  Sheila could sing an unforgettable version of Will Do with a string quartet.  Beethoven, Liszt, Berlioz, Brahms, all of the great composers listened to and borrowed from the folk songs of the period.  I write songs that sound simple but are not. I never actually chose it.  It chose me.  I don't intentionally write songs or poetry with a conscious goal.  All music is folk music.
What were you doing in the 60s?
I always thought much of the early 60's folk music was dull and corny, you know "don't let the rain fall down, Michael rowed the boat ashore" and all that, it didn't speak to me back then.  Later on, a lot of the socially conscious songs I was hearing were folk songs, that's when I learned about Woody, Seeger, & Phil Ochs, that's when I started listening.  In the early 60s, I was playing baseball, watching TV, listening to Beatles.  In the late 60s, I was reading Rumi, Twain, Rimbaud, Castaneda, joining revolutionary tribes.  I was angry and sick of the hypocrites, the injustices, the oppressions, that I was encountering in the world and in my own life.  I am a great procrastinator.  Much of what I do gets done at the last minute, or spontaneously, I don't make great elaborate plans. 
Who were your first music influences?
Mom taught us all the old hillbilly songs.  Hank Williams, Ernest Tubb, all that.  Dad listened to classical music, especially the soundtracks to the epic films of the time.  I broke away from that on Feb 9, 1964, as we watched The Ed Sullivan Show.  It took a long time to get back.
Who is your primary musical influence if you have one?
1. John Lennon - Perfect songwriter, perfect singer, perfect guitar player.
2. Bob Dylan - The word made flesh, again.
3.  I listen to a lot of classical music.  I am fascinated by World Music, Irish, North African, Arabic, Gypsy, Indian, Reggae.  I seek out the unknown greatness and unique truth of all music and poetry.  My artistic mission is to carry forward and expand on these traditions. 
What inspires you to write?
The songs are often a response to the world I inhabit.  Not necessarily the world that anyone else inhabits.  I can only speak of what I know, what I experience.  It comes from my history and my relationship with the reality that I create.  When our worlds intersect, that's when we are in communion.  That's what makes artists unique.  I dream a lot.  I love silence.  I cannot tolerate being interrupted when I'm thinking.  I am never bored, never lonely, I can't even tell you what that means.  My first collection of verse titled The Invisible Waterhole was published during the plague on May 31, 2020.  People ask "what is it about?"  My answer is, "it's about a world that did not exist before this book was written." 
How do you approach writing a song, where does the seed come from?
I don't schedule a time or date, I am not that disciplined.  I don't exercise writing skills or attend workshops.  I write when I have to, when I need to.  It's the same as eating when you're hungry, or breathing after holding your breath as long as you can.  It's an urge, an instinct that I cannot deny when it manifests.  I don't write songs that I don't believe in.  I don't write songs necessarily as entertainment.  There is mystery in everything I write.  No single song or poem is about any one particular subject.  They are more like fractals.  Others have compared songwriting to childbirth, for me it's more like exorcism.
Were you a peace activist, and also a veteran?
Yeah.  I was there when the police tied a rope around my friend's neck.  I saw them bang a girl's head into the hood of a car.  I was arrested for vagrancy.  I got hurt.  I paid the price.  I have the right.  I still have my draft card, I still have my Teamsters card.  I was not drafted.  I would not have been accepted anyway because of childhood physical conditions.  I served the country by working to bring my brothers and sisters home alive.  I still do.
Tell me about the Michigan Rock and Roll Hall of Fame induction. Please tell me your Rock history and how this honor came to be.
When it happened in June 2017, I didn't know how to accept it.  We were inducted on the same ballot with The Spinners and Edwin Starr, I thought that was cool.  It was a long road.  I founded a lot of bands, The Silver Chords, The Sedition World Orchestra, The White Lines, to name a few that you can find on Face Book or whatever.  When we got to the Hall of Fame and experienced the great and powerful wizards of Michigan's musical history, it was mind blowing.  There was Joe Kidd, with Smokey Robinson, Mitch Ryder, Mark Farner, Bill Haley, MC5, Iggy Pop, Martha Reeves. Michigan has a profound and powerful and diverse musical history.  It is an honor to share that legacy as we travel across the nation and to foreign lands.  Sheila and I have appeared in 24 states and 12 countries in North America and Western Europe.  Everywhere we go, we are asked where we are from.  They are often surprised when we tell them.  The Detroit legacy is Motown & Revolutionary Rock.  I've been part of that.  Today, I can show the world that it is not necessary to turn your Marshall stack up to 10 in order to demand social change.   
Advice for up and coming songwriters?
I'm not a life coach.  Everyone has their own series of events.  My advice - write songs and sing them.  Be not afraid.
Sheila Burke
Do you recall the point in your life when you felt like "hey, I am a songwriter!"? Please tell me your songwriting early history.
I wrote a little poem for my mother when I was ten years old and put it to music.  She was so happy, she got it published in the local newspaper.  That kind of encouragement got me started at an early age.
What part of the Appalachians are you from?
I was born in eastern Kentucky, close to the West Virginia border.  There's South Williamson, KY and Williamson, WV, separated by the Tug Fork of the Big Sandy River.  The nearest big city to where I lived was Pikeville, Ky. We moved around a lot so Dad could be closer to his work.  Even 30 miles could be a dangerous commute in those hills.
 I got to know areas like Turkey Creek, Pond Creek, Brushy Fork, Raccoon, Butcher Holler, Louisa, and Ashland.  On a Sunday afternoon, we'd head to the Breaks Interstate Park near Elkhorn City.  We'd drive to Hazard, KY and Norton, VA for the scenic overlooks.  Sometimes we visited WV to explore Matewan, the Hatfield McCoy trail, and many of the hollers and homesteads there.  We spent time in Ohio and Tennessee.  I fell in love with those mountains and the folks living there.  The whole area felt like home to me and it still does.
What was your childhood like?
I'm the fifth of eight children.  We sang all the time, even during our chores.  We often moved around, so I learned to make friends quickly.  As a child, I struggled with asthma.  I couldn't play outdoors, so I read a lot.  Mother told us stories, the old traditional way, true stories of life and death, joy and tragedy.  The old mine shafts, spring time on the mountains and autumn wildfires were a constant reminder that life can be fragile.  We got snowed in one winter with no electricity for three weeks, using our coal stove and fireplace to cook beans and cornbread, and to keep warm, storytelling and singing for entertainment with gospel music to keep us encouraged.  We made snow cream, hot chocolate, and popcorn for our treats.  We faced hard times with faith, hard work and family. 
Speaking of storytelling, here's a true story for you.  When I was five months old, my dad went with his brother to get some loose coal off the hillside, it was plentiful at the time.  There came a landslide and he was completely buried.  His brother ran for help and soon, the men were digging him out with their bloody bare hands.  Thankfully, my father was wearing a helmet that slipped over his face creating an air pocket so he could breathe.  His leg was crushed and fractured in several places, but they got him out.
 They took him by car to the nearest VA hospital in Huntington, WV, at that time about a three hour drive, where they set his leg in a cast.  He returned home, off work with no money coming in, scarce little savings, and five little children including myself as a baby.  Mysteriously and miraculously, bags of home grown produce and canned food started showing up on our porch. There were oranges, nuts and a little peppermint for the children for their Christmas treats. 
Within three weeks, my dad cut the cast off his leg, even though it was not completely healed.  He went back to work.  He walked with a limp and quietly suffered for the rest of his life... but, we made it.
Have you had a run of day jobs or a secular career?
Both.  Growing up in an area where steady work was not plentiful, even in the coal mines, my dad was a carpenter and a minister, and my mother was a homemaker and seamstress.  They thought it was good to look at your life as always being self-employed, to develop many skills, to not rely too much on steady employment, and don't sell your soul for it.  I worked many jobs through the years and finished college with a focus on liberal arts and business.  I am still a lifelong student, vocalist, artist, writer, editor, consultant, cook, dishwasher, and more.  With no limitations on pursuing creative interests and offering your best, good things will come.
Do you come from a musical family?
Everyone sang and some played instruments, including my parents, all eight children, cousins, aunts and uncles, grandma and grandpa, friends and neighbors up and down the hollers.  It was mostly what I call Appalachian spirituals in the early years, then gospel, bluegrass, folk and country.  Music helped us "keep on the sunny side."
Are you formally trained in music?
We had no money for lessons when I was growing up, but Mother played the piano, auto harp, dulcimer, harmonica, and juice harp, and she taught us children how to sing the low parts, high parts and everything in between.  During my school years, music teachers taught me the basics.  When I moved to Michigan in the early 80s, I studied voice for a while, different styles and genres, classical and traditional. 
Who were your first music influences?
My parents and family, then music teachers through the years.  I loved the Christmas pageants and spring recital where I began to get a taste of classical and sacred music.  I heard artists on the radio such as Ralph Stanley, Bill Monroe, Hank Williams, Johnny Cash, Patsy, Loretta, and Dolly, Linda Ronstadt, Emmy Lou Harris, then Peter, Paul and Mary.  I loved the gospel greats, also listened to different genres including Native American, African American, Irish, and various cultures, styles, and rhythms.
Who is your primary musical influence if you have one?
Currently, I'd have to say, my partner, Joe Kidd.  From the moment we first sang together, we found common ground and took flight from there.  We found a way to blend our backgrounds and harmonize in a way that touches many styles and genres but always circles back down to earth.
Please tell me your performing history before teaming up with Joe.
I sang in churches with my family, concerts with school choirs, and performed in folk festivals with my sister Susie, who played guitar.  Enjoyed singing country and bluegrass with my brother Bob and his band.  I toured and performed with our college concert choir, madrigal groups and pop chorales.  I've sung at many occasions from baby christenings to weddings and funerals, always felt honored to be included.
With your beautiful voice and gift for writing, why folk music?
Thank you, that means a lot coming from you.  I love the storytelling of folk music, the minor chords and strange rhythms, music that speaks to the heart and soul.
Has folk music always been your choice?
After exploring everything I could learn about different styles, I always return to folk music.  Many of the great classical composers took local folk music and expanded it, composing  enduring compositions of the heart.
What were you doing in the 60s? (I am betting you are too young for those years ;o) )
Ha.  Reading, writing, music and church.  We gathered around in the evenings and watched the news on tv.  During supper, we discussed our day and current events.  After chores and homework, we watched music shows, everything from the Grand Ol' Opry to Lawrence Welk.  My dad said he wanted me to sing like Norma, the champagne lady, so I tried my best for him.  He asked for Crazy by Patsy Cline, so I did that, too.  We sang songs like Red River Valley or Goodnight Irene and finished off with an old gospel tune.
Were you a peace activist, and also a veteran?
"My brother was a young man..."  is from our song, the Veteran (My Brother).  I had mixed feelings because when my brother went to Vietnam, I watched my mother's heart break.  I saw both my father and my brother struggle with PTSD, although it wasn't called that at the time. 
I sang Blowin' in the Wind and did what I could, although it felt as if it were never enough.  There were no peace rallies in the hollers and cornfields where I grew up.  There were, however, plenty of union organizing and strikes at the coal mines with lots of folk, bluegrass and gospel songs built around that.
My father was a World War II veteran.  We honored our military and our leaders respectfully, even if we disagreed.  I remember heated debates at family gatherings.  Everyone was encouraged to vote their conscience.  Who doesn't pray for their child to come home safe and sound and for wars to end?
What inspires you to write?
It comes to me, so strong, I can't help it.  Currently, I'm working on a series of children's books, written in rhyme, complete with illustrations, crafts and helpful references.  The series is called, Sheila Burke's Appalachian Memories.  The books will have matching songs of the same title, such as the first one, Just Want To Be Myself, featuring a song from our CD, Everybody Has A Purpose.  The books are about growing up in Appalachia, with a little homespun storytelling, and will be available on Amazon and on our website, soon.  I've presented at the Michigan State Fair children's literacy programs, at the Michigan Readers Association conferences, and made donations to the "little libraries" in several areas.
How do you approach writing a song, where does the seed come from?
I hear it in my head and heart, sometimes from memory or a dream, a current event, a great loss or sorrow, or even from a sunset.  I never question it, I just follow that leading and see where it takes me.
Advice for up and coming songwriters?
Never be far from a pen, paper and recorder.  Study, read, write.  Don't judge yourself too harshly or compare yourself to others.  Always work to improve your craft, but don't be so critical that it becomes a stumbling block.  We are only messengers.  Someone needs to hear that message and share in that experience.  If you have any doubt, try stopping it and see what happens, you really can't.  So, if it's with you that strong, let it flow.  Find your own gifts and continue working toward your dreams.
For both of you
How did you meet and how long have you been a performing couple?
Joe:  Before we ever spoke a word to each other, it was obvious that this was inevitable.  We met in 2011, at a benefit concert for a poet and mutual friend.  I drove there alone, listening to Dylan in the car.  I decided not to show up.  I turned the car around and was driving home.  Something would not allow me to do that.  I turned back around and made it on time to do my set.  That's how we met.  A year later, after not seeing one another again, we were both booked separately for a college concert.  I was told that there would be only music, no singing.  I did not intend to comply with that rule.  I saw Sheila there and asked if she would like to join me for my set.  She said yes.  I had written Soldiers In The Army Of Mercy and Peace the night before.  We sang it together.  That's how it began.
How do you approach collaboration on writing?
Joe:  I find it difficult to collaborate, I've never felt the need or desire.  My thoughts are quick and to the point.  Sheila is only the second artist that I have ever been able to trade ideas with.  One will say "hey get yer phone, record this before I forget it."  Our CD titled Everybody Has A Purpose could not exist if we had not collaborated as we did.
Do you attend workshops and/or teach workshops?
Joe:  Woody Guthrie, Bill Monroe, Jimmy Rodgers, John Hartford and the others I have mentioned, have given us all the workshops we need.
What is your goal with writing and performing?
Joe:  My intent has always been to give a voice to the silent, those among us who suffer grave injustice. To empower my fellow humans, to give back something to the giants who came before us and whose shoulders we are lifted upon, and to be in communion with the spirit that lives around us and inside of us.  To keep writing and performing.  If we are doing it right, the audience will respond.
Sheila:  To share a message in our music that causes people to think and act in ways that improve our common existence.  To enjoy the harmony, fellowship and camaraderie that only music brings.  To share a life of meaning and purpose.  Everybody Has a Purpose.
Read all about Joe Kidd and Sheila Burke, book them!, follow their live appearance tours, order their cd, Everybody Has A Purpose, and Joe's book of poetry, The Invisible Water Hole, at https://joekiddandsheilaburke.com/