"MOONFLOWER" Lily B Moonflower tells you who she is upon her debut album release!
Kansas. The land of Ahs! My father exited the Korean conflict and instead of returning to the coal mines in East Virginia, he, like so many other veterans, took a job with an airplane manufacturer in Wichita, where I was born and lived until I was 8. Kansas is loaded with sweeping prairies, farmlands, alabaster, clay and flint hills, geological anomalies, and Lily B. Moonflower. Lily (Brown) is a rising young star from Lawrence, KS, whose talents are broad, poetic and colorful. Lily is dynamo of creative and positive energy- an old soul inhabiting a young lady's fleshly soul vessel. I first made contact with Lily when I learned she was selected, with other songwriters, to be a part of my "Story Songs with Ernie", songwriter's set at the Pickin on Picnic Festival held annually at Cuba MO. This set, which I have presented for several years, most notably at the John Hartford Memorial Festival and the Walnut Valley Festival, is a panel discussion/performance with story telling songwriters. I host, moderate and perform. We each perform an original story song then discuss the process, round robin until we are out of time.
After talking with Lily, I asked her to also join the John Hartford Memorial Festival emcee crew, which I also managed. She delivered straight and true and was a pleasure to work with. The Story Songs set took place two months later at the Pickin' on Picnic festival in Missouri, along with Willi Carlisle, Xaris Waltman and Walter Greiner. (below- Ernie Hill, Lily B Moonflower and Willi Carlise)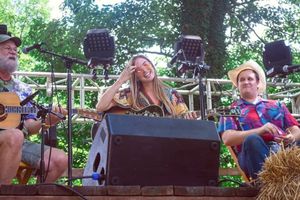 I was greatly impressed with Lily's personality, songwriting talent and stage presence. Lily, her boyfriend and dobro player, Jake Keegan, and I became friends. Not long after seeing them at the Walnut Valley Festival, Winfield, KS, Covid hit and things changed drastically for everyone. Performing artists were stopped in their tracks as venues were shut down to help slow down the spread.
Lily Moonflower told me that she discovered her inner light by being in a dark place. She emerged as a butterfly and Covid only redirected her energy from live performance, to more songwriting and also recording her original songs. Lily's first album was not a rush project, but rather, a process involving several Lawrence, KS based musical friends who excel at what they do. The end result, "Moonflower", set to release Feb 12, is a 10 track, about 45 minutes of original folk twang/rockabilly testament that this lady is an original. The recording, cd and vinyl, is also quite a piece to look at!
Lily B. Moonflower has a smooth broad ranged, soprano based voice that does not sound like anyone I have ever heard. Twang suits her fine. She effortlessly hits all the notes that are built into her creative melody repertoire with a signature slide, something between a moan and a croon, but not. What it is, is feeling. It is natural soul. It is natural art. Lily is not pretentious, not a dreamer, just a gifted soul who has many paths to choose from to share her creativity, just happens that songwriting and performing brings her joy, so that's what she does. Lily also pays bills with cabinet and furniture restoration, bringing new vibrance to old finishes. She is also a quite the visual artist. Having picked up some tips here and there from family, Lily began making money right out of high school, so with a career in her sights, there was no need for her to seek academic higher education. As I left Lily, still at the stage at the Pickin on Picnic fest, I turned and noticed her guitar case and was completely blown away by the artwork on it. I asked her about it and yep, she painted it.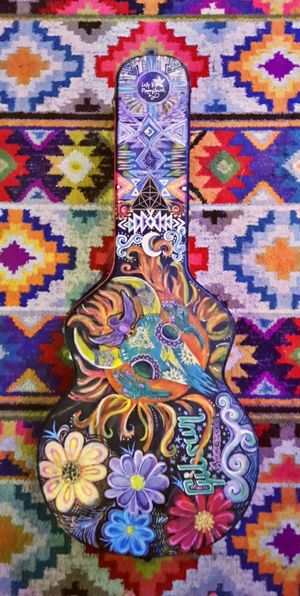 The following interview introduces you to Lily B. Moonflower and covers most of the bases. With Story Songs, I let my curiosity rule. With music journalism, I do the same. Meet Lily B. Moonflower.
EH- Lily,First, please tell me how pandemic has affected your career and your various venues of revenue.
Lily-- During these crazy times, we haven't been able to make a living like we used to. Not playing as many live shows is the main reason for this. Performing live and connecting with my audience is one of my favorite parts of my job as a musician, I've had to adapt and evolve for the better. Last March, my survival instincts told me that I have everything I need to be successful, within. My resourcefulness and creativity has kept me afloat and even thriving the past year. My intuition told me it would be best to release my debut album while folks are in need of good new music. During my album release journey, I've found joy tapping into my imagination & ingenuity. It hasn't been easy figuring out how to adjust the way  I do things and stay on the path of purity and truth but I have learned many lessons of integrity and honesty along the way. 
EH-What is your opinion about this pandemic and public health?
Lily-- Health and sustainability is my number one priority. I couldn't lead the lifestyle I do without first staying in touch with my body and intuition. To be a musician is demanding to your body and mind. Once I realized this, I became a health advocate for diet and lifestyle. We have to remember as a society the importance and value of having our health and being a balanced human. It starts within the shadows of our life. We first have to realize how we could improve upon our daily habits and then slowly evolve into what we can imagine our most healthy life being like. Personally, I found out that I had some health issues manifesting so I started researching the benefits of a whole foods diet, meaning no processed foods. This is important because its comparative to riding your bike to the park instead of driving to get there. We all know the convenience of driving but we also know the repercussions the pollution has on our precious environment. Life was not intended to be so convenient and profitable. Taking the time to prepare healthy meals and lifestyles for ourselves is better for our environment within our bodies and without our bodies. Once society realizes this as a whole, our focus will be more geared towards immunity to prevent sickness instead of controlling and prohibiting everyday situations. Fully understanding this, we will gain back our true freedom. 
EH- Where were you with your career when pandemic hit?
Lily-- We we're excited for a full year of touring, in late Feb, 2020. When it hit, we were at Folk Alliance International Music Festival in New Orleans, before anyone knew what Covid was. Everyone came down with the weird sickness when they left the conference but there was no weird stigma about it. Since then we've moved to more of an online presence which seems to be more efficient then hardcore touring.
EH- How are you dealing with it now? Do you perform in safe venues only? What is your approach to booking now that restrictions are in place? 
Lily-- Live music is more important than society tends to think. Our mental health is just as important as our physical health and wellness. Balance is key. We are able to offer safe and memorable experiences while only performing in public if the venue has health and safety in mind and takes the appropriate precautions. This enables us to keep moving forward with integrity and our audience to keep their essential mental well-being. 
 EH- Let's talk about your history- you are currently 23?
Lily-- Yes and getting older as we speak!
EH- You do everything- music, art, crafts, wood working, pet welfare, has your creative side always been so diverse?
Lily-- Since I entered the world of the arts in high school, I have not cornered myself into a certain trade. I like to keep my mind open to trying new things and even failing. There is a lesson in each failure. 
EH- Do you ever rest?
Lily-- I very much enjoy taking time for myself in order to restore and reenergize my mind and body. When we exhaust ourselves, our minds physically can't keep up with our to do lists. I've experienced this first hand. What I've learned from my own journey of self-healing, studying Taoism and all other eastern philosophy is that we CAN find joy and contentment in SIMPLY EXISTING. We do not need to justify our lives by working for ourselves or someone else to feel satisfied or meet others expectations. Since I live in a society that does not view life in this way, I have felt pressured to maximize my schedule and life in every way. I like to keep a balance of maintaining relaxation and using my artistic mediums as a creative outlet for my imagination.
EH- Born where and when?
Lily-- I was born & raised in Kansas. I went to high school in Desoto, KS, graduated in 2016, then moved to Lawrence, KS which is the bigger college town, 25 miles from Desoto. I never went to college because I was making money. I started my own wood working business as a junior in high school, refinishing kitchen cabinetry & furniture. I was inspired by my mom's friend whom she hired to refinish our kitchen cabinetry. I would sit in the kitchen with her and watch how she did it. She gave me some tips on faux finishing, which is one of my specialties now. Around this time I was also playing music and writing songs because I was envisioning my life as a songwriter and performing artist. I would play in small bars and venues around where I live in the mid-west. I started to make friends in the scene by going to songwriter rounds and open mics. Made a lot of memories I'll never forget, doing that kinda stuff. Eventually I met my boyfriend and bandmate Jake Keegan, who plays the dobro with me in my band and in our duo project, "Lily B Moonflower & Jake Keegan". We write songs together and are working on our duo album currently. As a team, we are quite the force. My best advice is to form an alliance with whoever you love to share your goals and aspirations together and hold each other accountable. This will inspire you to be the best version of yourself in order to achieve abundant success!
EH- Where do you see yourself 20 years from now?
Lily-- I believe in the quantum physics of reality. My life is so spontaneous. I love doing what I do and I will continue to do so because I'm working on a road that leads to glory. I want to shake my Savior's hand. I'm building my hopes on things eternal. I'm working on a road to glory land.
EH- Siblings?
Lily-- I have full brother and sister along with 1 half-brother, 1 step-brother and sister on moms side, and 3 step-sisters on my dad's side.
EH-  How did you grow up? Is your family into music and art performance?                
Lily-- Our lives growing up definitely revolved around music. We loved listening to it and one of my earliest memories is being held during a church service, listening to my dad play trombone on stage. My grandpa on my mom's side took me out at 8 years old to buy me a Fender Stratocaster. I guess I took a liking to the idea of being a guitar player and songwriter so I never stopped singing & playing. My first performance was with that navy Stratocaster at the 4th grade talent show, in front of the whole elementary school. Eventually my dad gave me an acoustic guitar that I started enjoying folk and country songs on. I remember doing summer rock camp thru the place where I took lessons, then leading church services in song on the big stage when I was young! We went to a big church so there was always a huge crowd. I think this is all what got me acclimated to performing for large audiences. 
EH- Is either parent a woodworker?
Lily-- Surprisingly no. I was inspired by my mom's friend, Stacey, whom she hired to refinish our kitchen cabinetry. I would sit and watch how she did it and learn techniques like faux finishing and antiquing. I started my own wood working business as a junior in high school, refinishing kitchen cabinetry and furniture. Stacey gave me some tips on faux finishing, which is one of my specialties now.
EH- You're involved with animal welfare and rescue
Lily-- I was inspired by the thousands of dogs that were affected by Hurricane Irma of 2017, to host an annual fundraising day fest in their benefit! A lot of the dogs were shipped from the areas the hurricane hit up north, to anywhere possible, so a lot ended up in KC. We hosted the first concert in my hometown, DeSoto, KS at the classic, beautiful Zimmerman Barn that they had recently renovated. The next concert was at a new place in KC called Bar K Dog Park! It's a dog park made out of recycled shipping containers complete with a stage for live music, cocktail bar, cafe/bakery, restaurant, and even a grooming area! We packed in the pups and even brought some dogs in for adoption, that had been directly affected by the hurricane tragedy! 
EH- Who is your biggest influence in music, in art, overall?
Lily-- My biggest influence is nature. There's so much to express and so many ways to express it. I feel honored to have a perspective of it all. I am one with nature so I feel that my life is a facet of the fullest expression. The source of my life force is sustained by nature here on earth and of the universe. 
EH- You are also a very busy wood worker, what all do you do when you take on a restoration job?
Lily-- I first bid the job & work with the client to figure out what their vision is. I come in to prep so I uninstall the doors and drawers, take off hardware, tape and mask off the area, clean the wood, sand it, prime it, paint it, do a faux finish if they desire, then I seal it all with a top coat. Next we put on new hardware and un-tape everything, clean and vacuum, then load out!
EH- Did you take guitar lessons?
Lily-- I had guitar lessons when I was 8-15 years old. Haven't had any since then. I  learned how to sing in choir throughout my school years then joined varsity choir my senior year. After that I took some voice lessons from one of KC's best vocalists, Havilah Bruders. We did the lessons with a grand piano in a sanctuary that had impeccable acoustics! It was a great experience. I learned a lot on how to  properly sing and breathe. When it comes to woodworking, leatherworking, video editing, marketing and event planning, I am completely self-taught. Trial and error is my formula. There is a lesson in every failure and you can only improve from there.
EH- Do you have any artists who come to mind that you draw inspiration from?
Lily-- I absolutely love so many artists. A few favorites that come to mind are John Hartford, Dolly Parton, Willie Nelson, Etta James, Del McCoury, Sturgill Simpson, Sara Watkins, Bob Wills, Colter Wall, Marty Robbins, Margo Price, John Prine, Lukas Nelson, and there are so many more…..
EH- Who designed your album art?
Lily-- My friend Asja, whom I met at Winfield, designed my album artwork. She is one of my favorite artists ever.  I am so honored that she took the time to create the album artwork for me! I told her I wanted a whimsical, colorful, flowery design that screamed Lily B Moonflower and she totally nailed it!
EH-  Do you find yourself going back to the drawing board on projects, do you map out a project and go by that, do you ever just wing it?
Lily-- I love to wing it and not look back. I think I can be my hardest critic. When I stopped overthinking and looking back is when I was truly liberated as an artist, to do what I want and feel!
EH- What is your favorite medium?
Lily-- Sound is my absolute favorite medium. To me, sound is a reflection of the cosmic vibrations happening in our lives at the level of our solar system- infinitely larger and smaller dimensions of the universe! Vibrational energy is experienced thru all mediums of art, in fact. Paintings give off a unique frequency of vibrational energy thru their colors and design, that we experience with our senses! Dance is another outlet for that unique frequency of vibrational energy to be expressed and experienced! It's hard to pick a favorite when they're all so different yet similar!
EH- Lily your voice is unique. I haven't heard anyone that you sound like, this is a big plus. Did you ever try to sing like anyone else growing up?
Lily-- I have never tried to play or sound exactly like someone else. I listen to a variety of masculine & feminine music for inspiration. 
EH- Tell me about your guitar.
Lily-- The Gibson SJ-200 is my second acoustic guitar. The first was a Fender Stratocaster, given to me by my grandpa, then an Alvarez acoustic lent to me by my dad. I got the Gibson in 2016 and haven't put it down since. The sound quality is amazing and it's a breeze to play.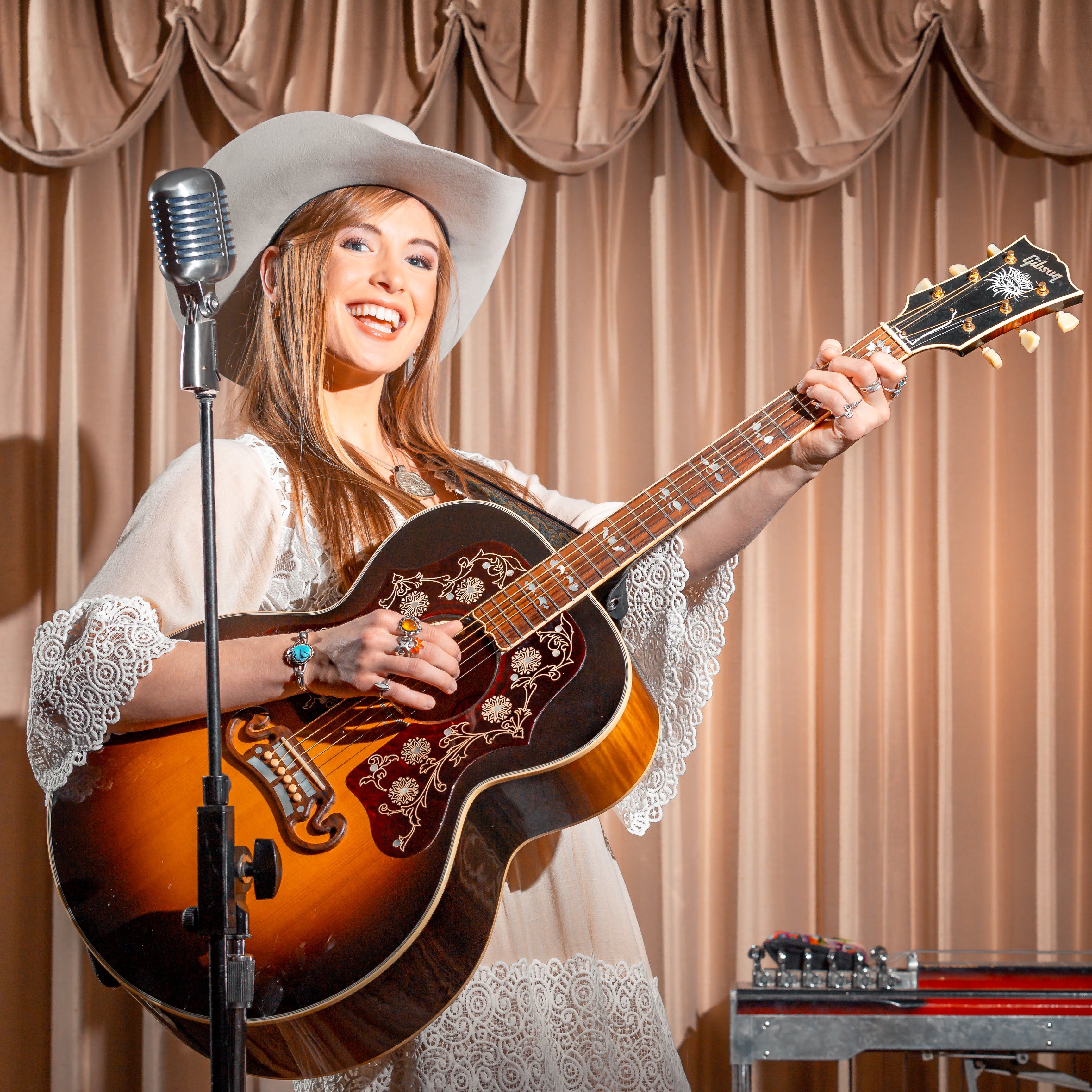 Not to mention the beautiful abalone inlays in the retro pick-guards, headstock & bridge. It's absolutely stunning, definitely an expression of my soul. I named this guitar Moonflower for its own lovely personality & when I play it during a performance, I become Lily B Moonflower. 
EH- What kind of strings do you use, and how about picks?
Lily-- I use medium gauge D'addario strings and a Bluechip pick for my sound.
EH- Do you read music?
Lily--  I wish i could read music. If I could go back in time, I would have played an instrument in the school band so I could learn how to read music.
EH- Do you remember your first performance? How did that come about and were you nervous?
Lily-- I remember my first performance at the fourth-grade talent show, in front of all the kids and teachers in the elementary school. I was so nervous to go on, I was worried because all the other guitar players in the talent show were boys and I was the only girl plus I was singing. I so wish I had footage of this. Anyway, I channeled my nervous energy into useful adrenaline and ended up nailing my performance. I was so happy afterwards and that was when I realized girls can do anything boys can do!
EH- Having shared the stage with you, and observing your live performance, you are a natural, you seem to have no fear or anxiety with an audience- has it always been this way?
Lily-- I think the reason it comes with ease now is because I've been performing for audiences since I was in fourth grade constantly. I even led the worship team at church growing up. This helped a ton, along with my parents putting me thru "rock camp for kids" at the place where I took guitar lessons growing up. It really pushed me out of my comfort zone and eventually I learned to channel that discomfort into optimal performance adrenaline.
EH- Picking style- you know your way around the finger board. Have you studied any particular technique or any particular picker? 
Lily-- I enjoy listening to great pickers like Doc Watson, Norman Blake, Townes Van Zandt, and many other greats. Maybe someday I will play like them but I've never sat down and tried to play exactly like someone else. What I do is "folk n roll" with a twang. It can't be compared to anything because it's my way of doing things. 
EH- At what point in your life did the light go off that told you "Wow! I wrote this! I am a songwriter!"?
Lily-- Probably when i was in high school, going to songwriter rounds in the KC/Lawrence music scene and sharing my songs and meeting new friends!
EH- Tell me about your process- do you make yourself write- or believe the tunes come from thin air?
Lily-- I would say they come from the atmosphere for me. I can't make myself write or it won't be as genuine. I usually start with a concept and go from there.
EH- Do you write melody first then lyric or is it random?
Lily-- Either or usually.
EH- Do you collaborate?
Lily-- I love collaborating. I write with my boyfriend and bandmate, Jake Keegan. I've also written with Tori Ponce, Havilah Bruders, & my friend Elaina McEndree.
EH- What advice do you have for emerging songwriter/musicians?
Lily-- Don't write to please anyone but yourself. That's where your truest expression comes from, that intimate personal space.
EH- What is your opinion about live streaming and online lessons as a revenue stream, and as a venue?
Lily-- I tried moving my Twang Tuesday jam to a livestream series and it went fine, people seemed to enjoy tuning in to enjoy some live music but for me it's not as great of a way to connect with my audience. Sure, they can receive my energy and song thru the screen but it's just not the same. 
EH- Why rockabilly folk as genre? What drew you to it? 
Lily-- I guess it's just how I enjoy expressing myself. A lot of music I listen to is this kind of vibe so I guess it's true you become what you consume. I like to think of my style containing a little bit of grace and a little bit of grit. 
EH- How did you decide to use the songs you used for your record- did you leave some gems on the cutting room floor?
Lily-- Oh yeah we for sure have some gems that will eventually be recorded. The ones we chose seemed right at the time and I thought the overall concept of the songs worked well together. It's basically an intro to who I am as an artist which makes sense being my debut album. 
EH- Where do you take it from here?
Lily-- I'm hoping the world will enjoy my debut album and I'll be able to grow my online audience and create more content to be enjoyed!
EH- About the record and music business- Lily do you have an agent or publisher, or publicist?
Lily-- I signed with Lost Cowgirl Records in 2020 after recording in their studio. They are the producer and publisher of my album. They are also helping distribute to publications and radio stations.
EH- Where do you believe the future of recorded music is headed for the independent non-mainstream musician concerning cds, vinyl and downloads? 
Lily-- Currently we will make the most money selling hard copies of vinyl, cds & t-shirts to folks who like to collect & listen that way! I think that the world is evolving and eventually the systems of Spotify and other streaming platforms will give and start paying artists what they deserve because that's what's right. The truth and positivity will always prevail.                                 #####
"Moonflower" was recorded at Lost Cowgirl Records studio, Stull Kansas, by producer Martin Farrell Jr.. The album features some of Kansas City and Lawrence's finest players including Jake Keegan on dobro, Colby Allen Walter on mandolin, Michael Turnbo & Shannon O'Shea on fiddle, Miki P on drums, Jenna Rae on saxophone and back-up vocals, and producer Martin Farrell Jr. on back-up vocals, pedal steel, piano, telecaster guitar, tambourine, and bells.
You can order "Moonflower" and be a part of Lily B Moonflower's official release party at Lily's official website: https://lilybmoonflower.com/ and https://www.thelostcowgirl.com/  where all purchase venues will be listed.
Check out Lily's YouTube channel at  https://www.youtube.com/channel/UC7ZPIjIXDz7gQEdGjPHf6gw
And follow Lily on Facebook- https://www.facebook.com/lilybmoonflowermusic
And Instagram- @lilybmoonflower